From Hurt. Through Hope. To Healing.
WE EDUCATE
We train volunteers and provide high quality programs at no cost to the children
WE SUPPORT
We work with the community and offer support to groups who help vulnerable children
WE ADVOCATE
We advocate for youth and children grieving a loss from a life-altering crisis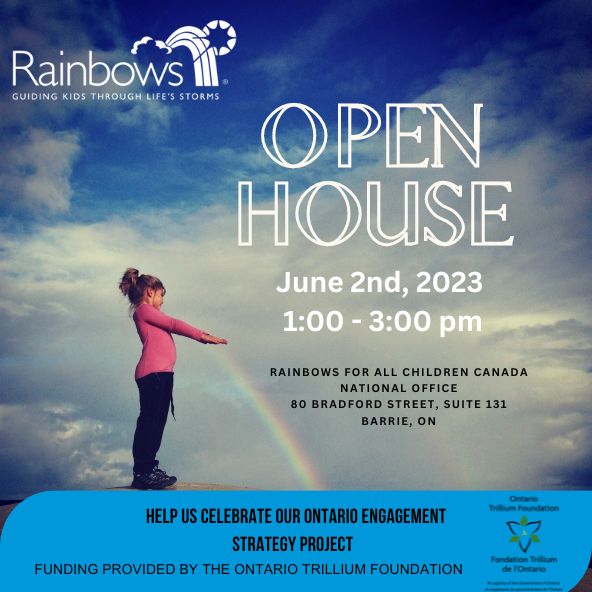 Our Services
We have developed seven
age-appropriate curricula and extensive training for the sites' volunteers delivering our services.
View our services »

Become a Volunteer
We provide accredited training for all volunteers to prepare them for the commitment of assisting bereaved youth.
Learn more »

Make a Gift. Donate
Your donations help us reach more of our grieving youth and children right here in our community.
Make a donation »
About Us
Rainbows partners with communities to offer a peer support programs for children, teens and adults who have experienced a separation, divorce, death or other painful transition within their family. The mission of Rainbows is to assist participants sort through their pain and confusion, build self-esteem and learn positive coping strategies to deal with their loss. This process takes place through channels of peer support with volunteer adult facilitators in a safe and nurturing environment.
Learn more about Rainbows Canada »
Our Mission
Rainbows For All Children Canada is a national not-for-profit charitable organization that fosters resilience and emotional healing among children grieving a loss from a life-altering event. By partnering with schools, hospitals and social service agencies we provide support when they need it, where they need it, right in their communities. Rainbows for All Children Canada fosters awareness that youth require support to heal. Our programs build confidence and self-esteem, improve communications, prevent destructive behaviours, and improve academic performance.
We provide research proven methods to support children and youth at each age and stage of their development and extensive, interactive training for the volunteers delivering our services.

Separation

Divorce
Death

Incarceration

Foster Care
Thank you for this program. It helps me express my feelings. My problem is that my parents are divorced and I feel guilty. I try to tell myself it's not my fault but I can't control myself. But your program helps me control my feelings and myself. I also thank you because every time I go to Rainbows I feel much better.
Girl, 10 years old